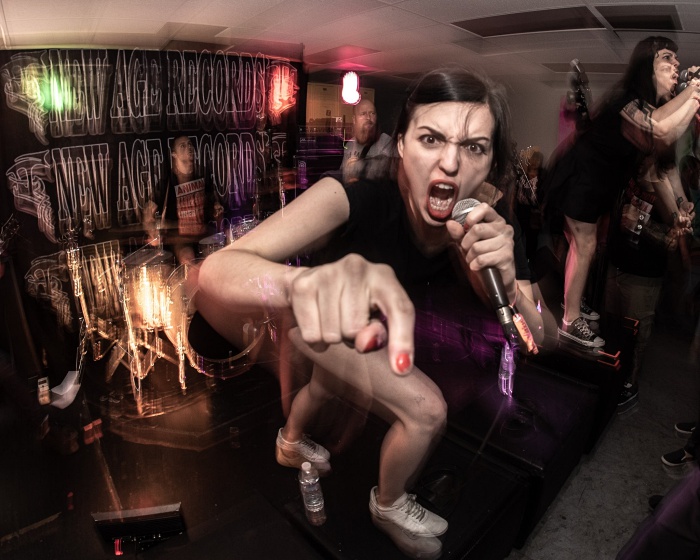 Benefit shows are my favorites. I favor them to free shows. Benefits are the incarnation of collective action mixed with altruism on a working class level. Fundraising events are activism for those who are either without inroads to grassroots organizations and/or those with reservations about political work.

On February 2, 2019, a benefit named Kitty Fest 2019 will be held at the Workers Education Society in Saint Louis, MO (located at 2929 S. Jefferson). The recipient is an organization called Tenth Life Cat Rescue, also located in Saint Louis. Tenth Life offers a range of services from stray cat help to rehoming to rehabilitation to finding affordable healthcare for cats.
What truly makes this benefit special is the lineup. From start to finish, the day will be a coalescence of well-known hard-working bands, representing all corners of the Midwest. Saint Louis is an ideal meeting point for bands coming from Iowa, Arkansas, Indiana, and Ohio. All these bands have helped each other with tour stops, as well as supporting and promoting each other's projects.
The event is being coordinated by Redbait, who are also members of the Saint Louis Workers Education Society (WES), the venue hosting KF19. The WES is a liaison organization for community groups and labor unions. For a few years before Redbait was a band, all members have organized fundraising shows at the WES for different charities, each with a different theme. In December 2016, the Reptilian (Kalamazoo, MI) headlined an anti-Trump fundraiser for an organizer training program. In July 2017, Blight Future (St. Louis, MO) headlined a similar event in the wake of the Pulse Shooting, and raised $1500 for an LGBTQ outreach center in Orlando. Kitty Fest is part of a long-running tradition.

The lineup:
· Closet Witch. Muscatine, IA. Grindcore on Halo of Flies Records
· Abraxas. Cincinnati, OH. Dark punk
· Treason. Cincinnati, OH. Heavy AF hardcore on New Age Records
· Decline. Chicago, IL. Youth crew on New Age Records
· Terminal Nation. Little Rock, AK. Power violence on Deep Six Records
· Disappear. Fort Wayne, IN. XVX hardcore
· Better Days. St Louis, MO. Melodic hardcore on Coin Toss Records
· True Self. Springfield, IL. Youth Crew
· Redbait. St Louis, MO. Crusty hardcore on New Age Records
· Time and Pressure. St Louis, MO. Hardcore punk on Safe Inside Records
· Brute Force. St Louis, MO. Metally hardcore
· Red Squad. St Louis, MO. Mathy experimental
· Tracing Wires. St Louis, MO. Melodic Punk
Sponsors for the event by providing items up for raffle include: New Age Records, Youth Energy Designs, Buttonmakers.net, and Brick City Stickers. Rebecca Redbait will have a unique "make your own limited edition merch" station. For food, there will be a huge vegan spread.

Lastly, this event will be filmed by Hate5Six, who have expressed their enthusiasm and interest to cover an event in the Midwest.
Get more info on the Kitty Fest event page on Facebook.
Tagged: redbait