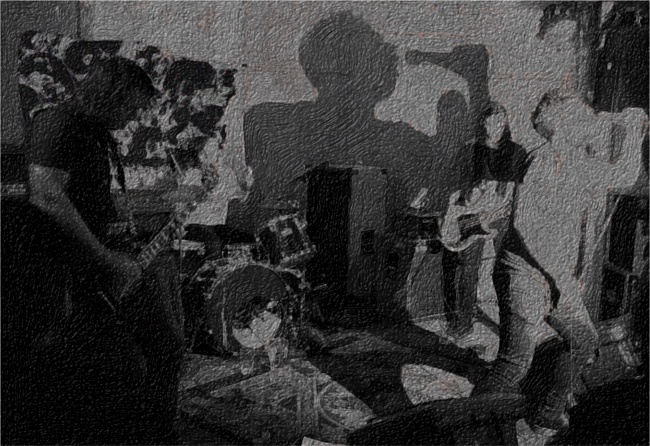 Geld is an Australian band described by some as "psychedelic hardcore," which naturally got No Echo's attention. Sitting down with the group's forthcoming sophomore album, Beyond the Floor, it's not tough understanding where that stylistic tag came from.
But while the musicians Geld certainly follow the weirder side of their influences spectrum on the new record, it's savage hardcore punk that primarily drives what they do.
No Echo has the honor of presenting the premiere of the music video for "Forces at Work," one of the last tracks on Beyond the Floor, and one with a certain chilling, Darkthrone-like vibe to it:
Directed by Melbourne-based artist Christian Bishop, the video for "Forces at Work" was filmed in the forests of Haukijärvi, Finland over three nights in late February 2020. It comprises both the song's instrumental intro ("Gedankenfleisch") and the song itself.
From Geld:
"Heavy snowfall and temperatures well below -15°C (5°F) meant that the camera kept freezing up, resulting in multiple shoots on the nights. Light and camera batteries kept exhausting due to the extreme cold and at one stage all footage was lost...for two hours. The files then mysteriously returned to the memory card...again, because of the extreme cold.
"During the shoot, an elderly Finnish farmer was drawn to the strange lights illuminating the eldritch ritual in progress; this was awkward as Christian doesn't speak Finnish. Oddly, aspects of the encounter somewhat echoed the Dyatlov Pass incident, itself the inspiration behind 'Infrasound', the first single from the 'Beyond the Floor.' Video editing video began in the UK, where the director was stranded for a week due to COVID-19. What else was he gonna do?
"The video and its circumstances are a particularly fitting reflection of the themes behind 'Forces at Work' and the album as a whole; the song conveys those times when the deck is stacked and the resultant exhausting paranoia which slowly envelops."
Further work from Christian Bishop can be found at his website or Instagram.
Beyond The Floor will be out July 3rd and can be pre-ordered now via Iron Lung Records (US) and Static Shock Records (UK). You can also find the album on Bandcamp.
***
Donate a few bucks to help with No Echo's operating costs:
***
Tagged: geld