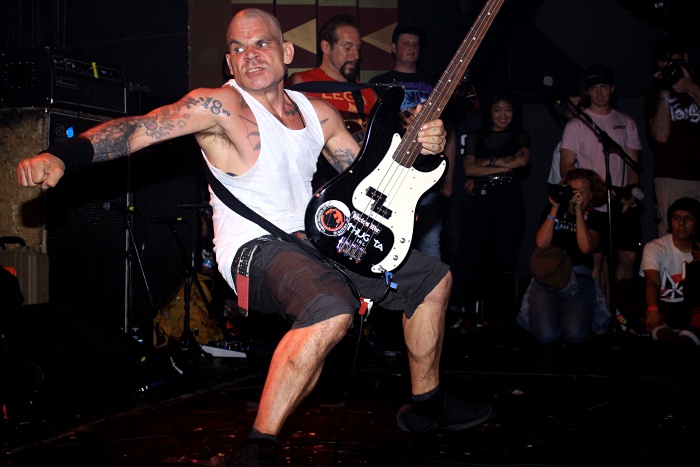 Keeping the momentum they've been building in the last couple of years, Cro-Mags are back at again in the form of a new song. "From the Grave" will also serve as the title track to the NYHC legends' forthcoming EP and features none other than former Motörhead guitarist Phil Campbell.
"Lemmy (Kilmister, Motörhead) came to me in a dream and said 'Take it back mate, it's yours, you started it' (referring to the band's name)," says Cro-Mags bassist/vocalist Harley Flanagan of the new collaboration. "I woke up and I knew what had to be done, so I did it. And I figured since Lemmy gave me my marching orders, I should get his guitarist to play on a new track. Phil immediately said yes and that is why it's called 'From the Grave,' and I'm so honored to have him on this song. I first met Phil when we toured with Motörhead on the Orgasmatron tour. He is one of my favorite guitarists of all time and I still can't believe I have him playing on one of my songs. Thank you Phil and thank you Lemmy for making this all happen!"
The From the Grave EP is the quick follow-up to Cro-Mags 2019 EP, Don't Give In. Having just wrapped up a European headlining tour, the Cro-Mags have a lot more touring coming up in 2020, and have a few shows still lined up for the rest of October. In addition to Harley, Cro-Mags is also comprised of musicians guitarist Gabby Abularach, guitarist Rocky George (Suicidal Tendencies, Fishbone), and drummer Garry "G-Man" Sullivan.
From the Grave will be out on Dec. 6 via Victory Records and can be pre-ordered at this link.

Upcoming Cro-Mags shows:
October 17 - Las Vegas, NV @ Divebar
October 18 - Los Angeles, CA @ Roxy
October 19 - Santa Ana, CA @ La Santa
Tagged: cro-mags, harley flanagan, motorhead