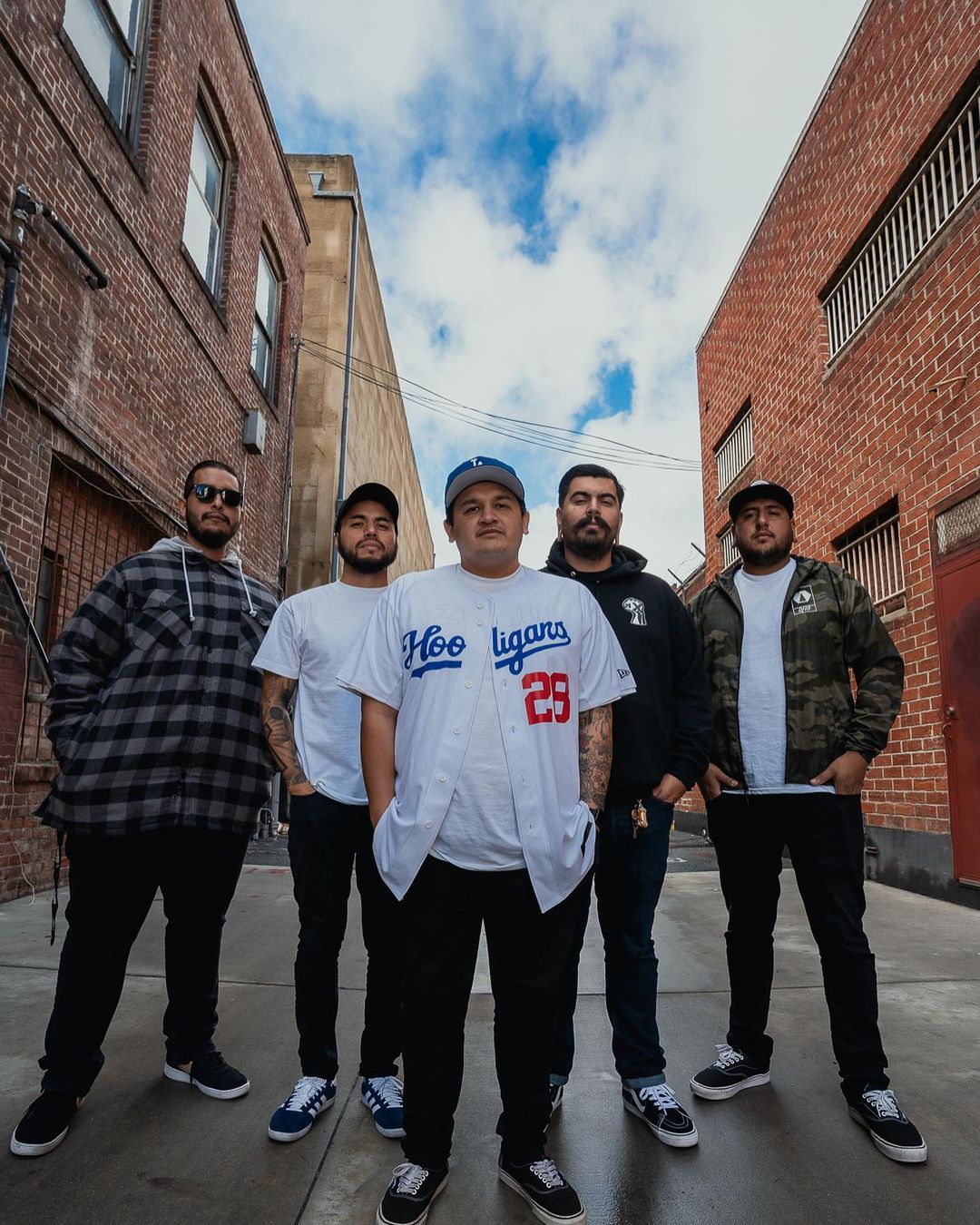 "We started in Pomona with a focus on the mixture of Chicano culture with the hardcore punk sound," Barrio Slam vocalist Victor Campos tells No Echo. The California band just released a 4-track EP fittingly titled This Is the Barrio Slam, and Victor is psyched about the way things have finally fleshed out for the quintet.
"Although members have changed throughout, music releases have been fairly constant. Starting with our 2015 Demo, to our Stories From the Streets (2016) and Rest Easy (2018) EPs in 2018, to our quarantine release LP, No Control/Sin Paz. We finally feel to have reached our full permanent and dedicated members with Abraham on drums, Jose 'Goat' on bass, Victor 'Bic' on guitar, and Alex on guitar."
Now that you have the skinny on their background, how would Victor describe the Barrio Slam sound? "I'd say the band is straight-up hardcore punk. Fast riffs. We had major influences from bands like Minority Unit, A Global Threat, Comeback Kid, and LA greats like More to Pride and Countdown.
"More recent bands that are super influential in what we do are Drain and Dead Heat. Their latest releases are insanely good."
Barrio Slam is a fine example of a band that is engrained within their local community. Victor is behind Mosh for Youth, a fundraiser to bring scholarship money for students of East LA and Pomona.
"I am a high school teacher in East LA, but grew up in Pomona (and Guadalajara). This year, I'm working with the same high school seniors that I also got to teach when they were in 9th grade when I started teaching. I have a lot of love for these students and wanted to go beyond and give them more. We know that East LA and Pomona are very low in resources and the family incomes of the students in these communities are low.
"Mosh for Youth is a way to help these students and families. I combined these two passions: hardcore and education in order to throw shows, events, and merch to raise scholarships for high school seniors in these communities. The reality is that the lack of resources in these communities influence the lower than state average college degree attainment rates."
If you're in the area tomorrow (January 15th), Mosh for Youth is throwing a scholarship fundraiser show in Pomona featuring Barrio Slam, Duhka, Pain Ritual, Darasuum, Major Pain, Infinite Crisis, Twist of Cain, Dispersed, 97Minutes, and Broken Mouth:

Barrio Slam on social media: Facebook | Instagram | Twitter | Bandcamp
***
Help Support What No Echo Does via Patreon:
***
Tagged: barrio slam